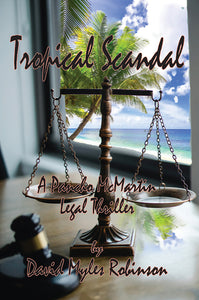 BluewaterPress.com
Tropical Scandal: A Pancho McMartin Legal Thriller
Regular price
$21.95
$0.00
Unit price
per
Tropical Scandal is the fifth installment in David Myles Robinson's series of Pancho McMartin legal thrillers. Based somewhat on bizarrely true events, this thrilling sequel is a tale of conspiracy, corruption, and murder. Shortly after the events of Tropical Deception, Pancho is approached by a washed up, alcoholic attorney whom he used to idolize to take over a murder case. The attorney, Isaac Goldblum, has learned that he is dying, and can no longer fulfill his cases. One of those cases, however, is that of his client, Dayton – an innocent man charged with murdering his grandmother. When Pancho takes over the case, he soon realizes that something isn't right and finds himself in the middle of the biggest corruption scandal that Hawaii has ever seen. With a little help from his friends, Pancho must get to the bottom of this case, prove Dayton's innocence, and maintain his finally hopeful love life.
With five iterations of the Pancho McMartin series under his belt, it's astounding to see how Robinson is able to consistently bring something new to the table with each sequel. His experience in the legal world provides him with a wealth of stories but Robinson has a way of distilling his inspiration into good old-fashioned, page turning legal drama that can go any number of directions. As you read, you can't help but wonder, "Where is this going to go?" which makes the read that much more exciting; in a way, it's as if knowing he's covered so much ground in the earlier installments of the series enhances the experiences and builds suspense for what will happen next. And Robinson rarely disappoints. The series is full of twists, turns and exciting climatic moments, and Tropical Scandal offers the most spectacular premise yet, largely because there is truth to it.
As is often the case with Robinson's legal thrillers, one of the most interesting things about Tropical Scandal is its exciting and accurate depiction of what a trial is like. Robinson is a master at setting the scene, building the tension, and getting you invested. What's more is that, after following Pancho through several cases, you feel like you should be able to predict what he'll say or do, but the hotshot (and sometimes grouchy) attorney always keeps you guessing; and it lands with jaw-dropping satisfaction each time he makes his next big break. Yet, at the same time, there's something very educational about the story. While, perhaps, Robinson aptly turns up the drama in his narratives, he's clearly more interested in the reality of the courtroom than many other writers in his genre, and his own experience in law combined with the input of his close circle uniquely qualifies him to balance the power of story with the intrigue of reality.
Tropical Scandal is exciting and rewarding; David Myles Robinson doesn't disappoint!
- Maincrest Media
---