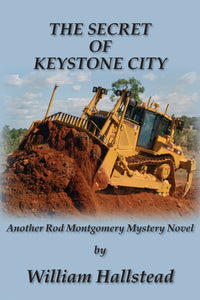 BluewaterPress LLC
The Secret of Keystone City
Regular price
$20.95
$0.00
Unit price
per
Rod Montgomery is at it again. Just as before, the semi-retired, ex-Philadelphia policeman turned private investigator still bristles when anyone dares to call him "Elrod." Rod was hanging around his house minding his own business, settling in for, as he puts it, a day of sitting in his office chair like most of his days. Unexpectedly, his phone rings. Following a referral from an old friend back at the Philly PD, Rod quickly finds himself listening to Maxwell Sturdevant and his younger brother, Cliff, brief him on the problems they are having at their construction project, Keystone City.

As with most problems, their problem started small. Soon the Sturdevants find themselves caught in the middle of sinister events. Questionable car crashes and unexplained construction accidents are one thing, but when people start dying, the construction company must quickly find the answer to the question of why. Their need for answers leads them to contracting with the not-so-renowned private investigator, Rod Montgomery.

As Rod gets further into the case, the sinister aspects of the crimes become worse. The closer he gets to answers and the more pressure the perpetrators experience, they turn to acts even more desperate. When the corruption moves into kid-napping and pre-meditated murder, Rod has his hands full and finds his mind turning ideas over at speeds he never thought possible.

Bill Hallstead's memorable character, Rod Montgomery, is sure to entertain and amuse you from the beginning of the story to the end. If you have not had the chance to read the first Rod Montgomery tale, Hard Days in Paradise, it is worth the read as Montgomery solves more intrigue down south in Florida.


---