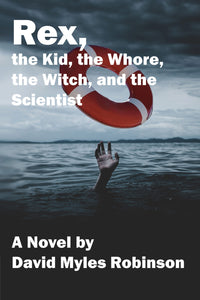 BluewaterPress.com
Rex, the Kid, the Whore, the Witch, and the Scientist
Regular price
$20.95
$0.00
Unit price
per
When "golden boy" wealth manager Rex Reynold's yacht was struck and sunk by a surfacing Russian submarine, his young son was lost at sea and his wife suffered a brain injury. The FBI, determined to cover up the Russian's involvement, forced Rex to accept the story that he was drunk and sank the yacht after running into a shoal.
Naturally, Rex's life changed forever. His wife, who had amnesia, blamed him for the loss of their son. After she took up with an Episcopal minister and filed for divorce, Rex sought refuge and enlightenment at MEXICO'S #1 RATED PSYCHEDELIC SPA, which led him to a small Mexican village where he met a young beggar named Reynaldo. There, he learned the story of Reynaldo's mother, the puta (whore), his aunt, a possible witch (bruja), and his father, an American scientist. Rex's already upside-down life changed yet again as he helped Reynaldo; investigated a Ponzi scheme, and ultimately and accidentally learned what the Russian sub was doing off the coast of California.
I love novels that manage to address serious themes with humor, novels along the lines of Ken Kesey's One Flew Over the Cuckoo's Nest or Tom Robbins's Even Cowgirls Get the Blues. Readers familiar with David Robinson's novels have come to appreciate the quick pace, entertaining prose, and clever plots. You'll find all those elements in his latest novel, Rex, the Kid, the Whore, the Witch, and the Scientist, but he has also managed to blend serious themes of loss with quirky characters and hilarious dialogue. The novel has Russian spies, but it isn't just another spy novel. It has high-tech gadgetry, but it isn't just another tech thriller. If you like formula fiction, you may want to skip this novel. But if you're a thoughtful reader who likes novels that reach higher, novels that can have you laughing and weeping while desperately turning pages to see what happens next, then you'll love Rex, the Kid, the Whore, the Witch, and the Scientist.- William Greenleaf, author of Bloodright, and The Tartarus Incident and other novels
ISBN: 9781604521795
Shipping Weight: 0.8 lbs.
---