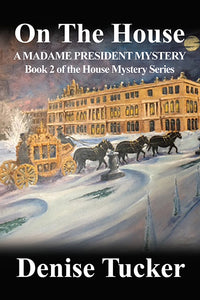 BluewaterPress LLC
ON THE HOUSE by Denise Tucker
Regular price
$19.95
$0.00
Unit price
per
A MADAME PRESIDENT MYSTERY
Book 2 of the House Mystery Series
by Denise Tucker
Madame President, her family, an entourage of White House aids, and their Secret Service agents are headed to Versailles Palace for a winter meeting of the G-8 Summit. They know that a terrorist group called "The Seven" has attempted to assassinate Madame President and wants to bring down her administration. The White House intercepts intelligence that one of the Seven's members is in Paris—a renowned French Chef who will participate in a special Versailles sugar baking competition at the Summit. One French chef turns up dead outside, in the snow-covered gardens, and Madame President's husband and White House Social Secretary Gary Craig steps in to help lead the murder investigation. A historic and unexpected January blizzard keeps the Summit leaders and chefs on the Versailles grounds, and thus trapped, Gary and his team race against the clock to capture the killer and unmask another member of The Seven.
On The House is the second book in the House Mystery Series and includes a new cast of colorful characters, including twelve French chefs, the G-8 leaders, four international artists, and the ever attentive Versailles staff. Returning to the Keeping House story are The CIA Blue
Hairs who manage to take over a Versailles fashion runway while secretly aiding the President. And once again, the First Family's youngest daughter Abigail, a precocious little girl with a love of playing hide and go seek and a photographic memory trumps them all.
---------
Author's Bio:
About the author: Denise Tucker is a college professor at the University of North Carolina at Greensboro by day and is a mystery writer and jewelry artist at night. She was born in Lynchburg, Virginia and was raised on reading mysteries, a favorite pastime of her mother and maternal grandmother.  She enjoys growing roses, singing in her church choir, listening to Celtic music, and spoiling her two cats.
ISBN: 9781604521399
Shipping Weight: 1.2 lbs.
---