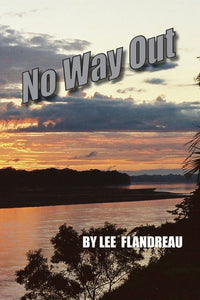 BluewaterPress.com
NO WAY OUT By Lee Flandreau
Regular price
$18.95
$0.00
Unit price
per
From his earliest years, Lee Flandreau possessed a curiosity about animals and forests. He grew up on an Ohio farm where he took care of horses, cattle and chickens, and collected snakes. His love for animals and wandering the woods would translate to travel in exotic places.
After earning a degree in Earth Sciences from Miami University, which he attended on football and baseball scholarships, he spent his entire career with an industrial equipment manufacturer. The last twenty years, in charge of all international operations, he traveled throughout the industrial countries of the world. By 1990, the year this true story unfolded, he had taken seven safaris in Africa and loved them all. He has taken three more since.
The Amazon and its vast unknowns also appealed to his sense of adventure. He found a friend with similar fascinations, and Bill and Lee researched a private river tour of Amazonia, to begin in Puerto Maldonado, Peru—a town they could find on few maps.
But, once they arrived there, adventure quickly morphed into dread and doubts that they would ever again see civilization. Nothing they had expected when booking this trip materialized: The large, comfy boat described by the tour director turned out to be only a cramped, open peke-peke canoe with no space to store two-weeks' worth of supplies. Their jumping-off place had no electricity, no phones, no English-speaking people. Their recommended captain and guide spoke no language they could understand. In the midst of the jungle a week into the trip, the captain ignored Lee's demands to return to their starting place. Throughout it all, Lee's sense of humor made their dire dilemma seem almost comical. But it couldn't save them.
Would they ever get back to Puerto Maldonado? Even if they did, would they ever find civilization when no roads existed and the airstrip gouged into the jungle offered no scheduled flights? Their most troubling question: Will we succumb to our fate, finding NO WAY OUT?
ISBN: 9781604521856
Shipping weight: 1.0 lbs.
---