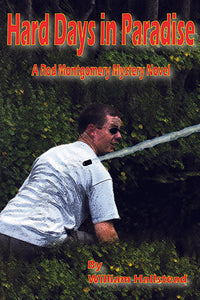 BluewaterPress LLC
Hard Days in Paradise
Regular price
$15.95
$0.00
Unit price
per
Elrod "Rod" Montgomery (please don't call him Elrod), a Philadelphia private investigator, had thought a visit from the IRS to inspect his home office would be his only major headache that fateful day, until he received a call from a Florida Public Defender. Apparently, his ex-partner, Stanley McKance, who had disappeared with all $20,000 of the partnership's money two years previously, was alive and well in a South Florida jail--charged with murder. Irene Hutchins, Esq. was calling to enlist the aid of Stan's old "buddy" in proving that he didn't do it.
Rod didn't know why he agreed to go to Florida; he really didn't want to help that crook. He knew he would not be able to recover his share of the money; if Stan had a public defender, the money was gone. Perhaps it was out of curiosity, or just the satisfaction of watching him beg for help. Of course, seeing him face to face would provide an opportunity to put his hands around Stan's throat…but he supposed the real reason was even though Stan was a dirty thief, he wasn't a murderer.
So, who murdered Daniel Bauer? Rod from Philly attempts to acclimate himself to this sunny South Florida paradise as one discovery leads to another until he gets too close…
This cleverly written detective story generously spiced with humor and engaging characters is an entertaining page turner that will leave you wanting more.
ISBN: 9781604520279
Shipping Weight: 0.6 lbs.
---