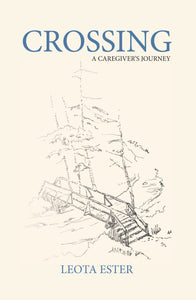 BluewaterPress LLC
Crossing: A Caregiver's Journey by Leota Ester
Regular price
$10.95
$0.00
Unit price
per
Leota Ester wrote this poetry as she lived with the changes of her husband, Lee, as Alzheimer's Disease became a part of their lives.
Leota found poetry a means of expressing the experiences of living with both his loss, as well as hers. She learned what helped make the time both meaningful and loving for both patient and caregiver. Her experiences and observations may serve as a guide, perhaps a solace, for those who also care for one suffering from this wicked disease.
Her years of being a wife, mother to three daughters, having careers as both a high school English teacher and as the owner and manager of her own business have encouraged a depth of understanding life that her poetry expresses. She presently lives in Evanston, IL in a retirement community.
ISBN: 9781604521504
Shipping Weight: 0.4 lbs.
---