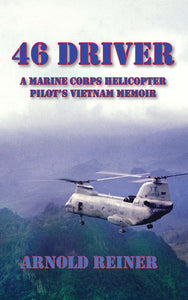 BluewaterPress LLC
46 Driver a Marine Corps Helicopter Pilot's Vietnam Memoir by Arnold Reiner
Regular price
$16.95
$0.00
Unit price
per
The kaleidoscopic tale of a Marine Corps CH-46 helicopter pilot and his comrades in Vietnam.
This memoir is a tour through Marine Corps Officer's Candidate School, naval flight training and the quagmire of Vietnam.
Reiner describes landing zones laced with enemy fire, catastrophic inflight mechanical failures, exceptional flying and tragic blunders. It's about life on the drab, hooch-lined bases of Vietnam's coastal plain, Khe Sanh's "hill fights," R&Rs and the crude fleshpots of Da Nang.
But mostly it's about flying and the missions that succeeded and those that did not.
Arnold Reiner grew up in New York City and entered the Marine Corps Platoon Leader Class Officer program at age 19. After earning an industrial journalism degree at the University of Bridgeport in 1964 he was commissioned a second lieutenant, entered naval flight training and was designated a Naval Aviator in 1965. 
He deployed to Vietnam with Marine Medium Helicopter Squadron HMM-265 in 1966 and also served in Vietnam with HMM-164. Captain Reiner joined Pan American World Airways in 1967 as a Boeing 707 copilot flying routes to Europe and South America and later was a captain on the Boeing 727 and Airbus A310 and the company Director of Flight Safety. Captain Reiner joined Delta Air Lines concurrent with the sale of Pan Am's European routes to Delta and retired in 2000 as a Boeing 727 captain. He lives in Pensacola, Florida with his wife, Cascille.  
ISBN: 9781604520842
Shipping Weight: 0.6 lbs.
---