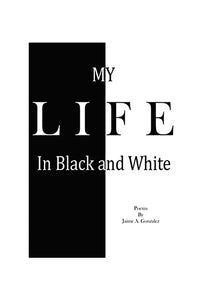 BluewaterPress LLC
My Life in Black and White by Jaime Gonzalez
Regular price
$12.95
$0.00
Unit price
per
This is a very well-written book of poetry spanning the lifetime of one man. It delves into the reaches of all the emotions we, as humans, experience in our lifetimes. It is a great read for moments of relaxation, introspection, and study.
Jaime Gonzalez was born on the highlands of the Island of Puerto Rico, and at the age of twelve, he moved to mainland USA where he grew up in Philadelphia. After graduating from school, he decided to join the US Marine Corps and was stationed in 29 Palms, California. It was there that he fell in love with the Mojave Desert and its treeless mountains. After a few years living in California, Jaime returned to Philadelphia and decided to join the Philadelphia Police Department where he served faithfully close to thirty years, while at the same time serving in the Pa Army National Guard reserve. After retiring from the police force, he swore he would never wear another uniform again, but that was short lived. He then moved to Daytona Beach, Florida where he accepted a position as a Campus Safety Officer with Embry-Riddle Aeronautical University where he is still working after eleven years. Jaime enjoys interacting with the student community and serves as the Crime Prevention Coordinator. It appears that throughout his lifetime Jaime has chosen professions that are of service to humanity. It is what he calls having a servant's heart.
ISBN: 9781604521412
Shipping Weight: 0.7 lbs.
---