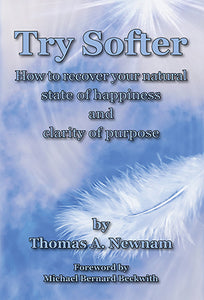 BluewaterPress LLC
Try Softer by Thomas A. Newnam
Regular price
$17.95
$0.00
Unit price
per
How to recover your natural state of happiness and clarity of purpose
Through his deep experience as a family counselor, therapist, husband, parent and grandparent, Thomas Newnam's Try Softer offers us a clear, compassionate and practical guide to a revelation in consciousness: trying softer rather than harder uncovers the heart's innate treasure of wisdom, intuitive intelligence, and unconditional love of self and others. Soften, and let this book's tenderness flow into your heart.
Michael Bernard Beckwith, author of Spiritual Liberation and Life Visioning
A master watercolorist, karate black belt and psychotherapist, Tom Newnam skillfully marries his lifetime of self-reflection with the influences of family, friends, events, a pony and several horses to paint a picture in words of how a Try Softer approach allowed him to achieve spiritual alignment.
Waln K. Brown, Ph. D., Founder & CEO, William Gladden Foundation
Author, The Other Side of Delinquency and Growing Up in the Care of Strangers
Tom Newnam is an artist, martial artist, psychotherapist, author and life coach who began writing self-help books when he became a grandfather. Feeling blessed to have so many of his fondest dreams come true, and from the deepest place of gratitude in his heart, Tom remains dedicated to passing along the most important life lessons he has learned thus far on his inspirational journey. "I've always known that helping others is the best way for me to become my most authentic self," Tom says. "I've been helped so much, and by so many, all I want to do is keep paying it forward - keep the love flowing - with my counseling, paintings, and books."
Visit Tom's website: 
sageandbrush.com
 to learn of his other books and view his artwork.
---