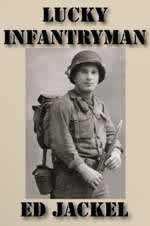 BluewaterPress LLC
Lucky Infantryman by Ed Jackel
Regular price
$15.95
$0.00
Unit price
per
Ed Jackel spent just shy of two years serving in the United States Army during World War II. A young man older than most, he went on to do his duty when called. Mr. Jackel was one of many in the generation that truthfully saved the world and made it a much better place for those who would become his children and grandchildren.  In Lucky Infantryman, Eddie Jackel spins a wonderful story of great historical significance.
This is an account every American should read. In the telling of his time in training for and in going to war, Ed Jackel does not glorify the events, does not politicize. He merely tells a soldier's story with all the genuineness and grit of growing up in America and being called on to do the seemingly impossible. This narrative is important for the historians of our times and the future. Eddie Jackel, an average American from the Lower East Side, one of many young men from all over the United States, captures the essence and flavor of America in the mid 1940s.
ISBN: 9781604520026
Shipping Weight: 1.0 lbs.
---