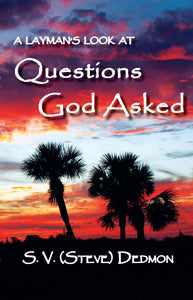 BluewaterPress LLC
A Layman's Look at Questions God Asked
Regular price
$16.95
$0.00
Unit price
per
The third in the Layman's Look series, Questions God Asks begins in Genesis and ends in Malachi looking along the way at questions God asked individuals and a nation. From the first man Adam, to a king, to a reluctant evangelist and satan himself, no one was exempt. Of those God asked, some were hiding, some were running, satan became challenging and in the case of a nation, they were wrongfully, or worshiping amiss. In most cases God asked lovingly, but also to convict and challenge. With each question God displayed His Holiness and hopefully through each question He will do the same to the individual, teacher or Sunday school/small group as they embrace and make each question their own.  
S.V.(Steve) Dedmon earned his bachelors degree from Embry-Riddle Aeronautical University (ERAU) and Juris Doctor from Nova Southeastern University. At ERAU he teaches a variety of aviation law related courses and is the Associate Chair of the Aeronautical Science Department. He is member of the Florida and United States Supreme Court Bars as well as past chair and current member of the Florida Bar Aviation Law and Education Law committees.
Since accepting Christ, he has been a member of various Southern Baptist churches where he has taught in a variety of ministries as well as served as a deacon. As a Christian, Steve is a staunch defender and zealous advocate for the divine inspiration and inerrancy of God's Word. He has been married for forty-two years to his wife Suzanne and they have two children, daughter Stephanie and son Seth. He is an avid tennis player and aviation enthusiast as the owner of two aircraft, one of which was the primary trainer in WWII. He and Suzanne reside in Fleming Island, Florida. Should you wish to reach out to him please feel free to do so at sdss49@aol.com.

---