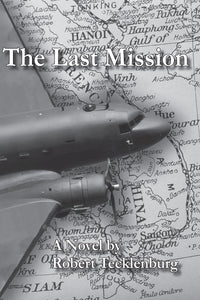 BluewaterPress.com
The Last Mission
Regular price
$21.95
$0.00
Unit price
per
September 1945, the Japanese have formally surrendered. An American OSS Agent lies bloodied in the streets of Saigon, killed during heavy fighting between recently released French soldiers and Vietnamese Nationalists. General William Donovan dispatches another OSS Agent, Charles Stanek, to Indochina to investigate his death.
Major Stanek's mission becomes far more complicated with the British in Saigon, rogue French soldiers running amok, Vietnamese demanding independence, the defeated Japanese yet to be disarmed, and a Russian mission in Hanoi for unknown reasons. The Russians, determined to uncover the identity of a deep cover agent in their government known only as Rasputin, are convinced Stanek, who they knew from the war in Europe, can identify him. The Russians, locating Stanek in the Central Highlands, capture and transport him to an infamous French prison in Hanoi, where the unscrupulous Colonel Pavlov brutally interrogates him.
Assisted by Russian Major Gregor Zerenowsky, Stanek escapes Hanoi for Saigon. There, Stanek seeks the aid of the beautiful but dangerous Madame Thieu, Vietnamese aristocrat and Viet Minh operative, to complete his mission. Upon leaving Indochina, he learns that Donovan had betrayed him; his real mission was not the investigation of the American agent's death.
Major Stanek confronts duplicity by his own command, threats to his life, and an international cast of characters, each pursuing their own self-interests, to accomplish his mission and return home. He angrily announces this is his final mission for the American intelligence services.
Robert Tecklenburg writes fiction, but considers himself a historian and researcher by training and vocation. His interests and writing defined by his own combat experiences and his years working as a trauma therapist for combat veterans. He is the author of Prague: Darkness Descending, Book 2 in the three-book series that includes The Last Mission, and a personal memoir of his war experiences in Vietnam, titled The Boys Next Door.
Tecklenburg spends his free moments sailing on Chesapeake Bay with his wife, Rebecca.
---