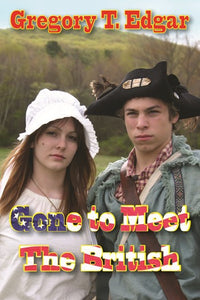 BluewaterPress LLC
Gone to Meet The British by Gregory T. Edgar
Regular price
$15.95
$0.00
Unit price
per
The sequel to Gregory Edgar's Patriots.
Gregory Edgar has once again produced an exciting story about teenagers in the Revolutionary War. This time, the autumn foliage and rugged mountains of southern Vermont and New York's Hudson Valley serve as the colorful backdrop for dramatic battles and unexpected romance.

Molly Cameron, beautiful and fiery "camp follower" daughter of a British soldier, becomes detached from the army during the Battle of Bennington. Later, alone in the wilderness, she confronts two young rebels, Danforth Reed and Ebenezer Dunham.

Though they start out as enemies, Molly and Danny soon find their hearts turning toward each other. Their fate, and that of American liberty, both hang in the balance as two great armies clash on the battlefield of Saratoga, NY, where Danny and Eben will come face to face with Molly's father.
--------------------------------------------------------------
"Although Gone to Meet the British is geared to the younger reader, I found it to have appeal for an older person as well. Few books tell the story from the viewpoint of the young, sometimes confused and frightened soldier who actually fought this war.
"This book breathes life into what is usually an inanimate subject: history. It is what we re-enactors attempt to do through our efforts. With its rich characters and use of dialect, Gone to Meet the British should be considered as adding to the field of living history.
"I consider this book excellent, and heartily recommend it." 
– David Bernier, Sr., Major General, Living History Association
ISBN: 9781604520347
Shipping Weight: 0.8 lbs.
---