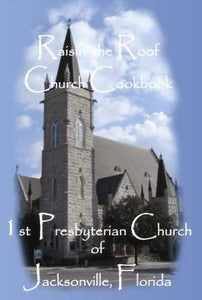 BluewaterPress LLC
Raisin' The Roof Church Cook Book by 1st Presbyterian Church Jacksonville, FL
Regular price
$16.95
$0.00
Unit price
per
This is not your ordinary church cookbook. This is a 320-page cookbook with recipes from the present and the past.
At the corner of North Ocean and East Monroe Streets in Jacksonville, Florida, stands a church that has served the city for 167 years as of the printing of this cookbook. Over the centuries, the church survived our nation's Civil War, rifts between members of the congregation who associated with the North and those who preferred the South, and the Great Fire of 1901 - a conflagration which decimated nearly all of downtown Jacksonville.
As with all churches, First Presbyterian Church of Jacksonville has faced challenges throughout its time. We discovered one great challenge shortly after a heavy rain. Members of the church found water in the sanctuary. This led to the investigation of previous roof renovations which revealed problems with the latest roof repair completed 10 years ago.
Church leadership, led by Pastor Dr. Robert L. Morris, Jr., faced a momentous problem. Roofing companies and engineering firms estimated costs for repairing the leaky roof could be as high as $500,000.
After the estimates came in, the big question was, "Where do we get the money?" Soon after putting heads together, members of the church decided to put together and market a cookbook. The church created a cookbook at the turn of the last century, so we thought, why not again?
In fact, we decided to include some of those 100 year-old recipes within the pages of recipes from the late 20th century and the beginning of the 21st century. This is what makes this more than "just a cookbook." The recipes from 100 years ago, coupled with the advertisements from Jacksonville at the turn of the century, give us a glimpse into our past. Even if you decide not to try the Turtle Soup, it is interesting to read how they prepared and ate food a century ago.
So for your culinary delight, here are some of our congregation's favorite recipes dating back over the past 100 years of First Presbyterian Church.
Proceeds from the sale of this cookbook will go to repair the chapel roof.
ISBN: 9781604520118
Shipping Weight: 1.2 lbs.
---