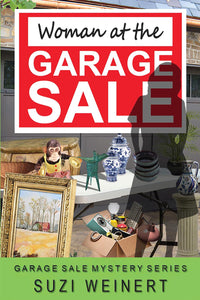 BluewaterPress.com
Woman at the Garage Sale
Regular price
$21.95
$0.00
Unit price
per
Jennifer Shannon notices a familiar-looking woman at a garage sale. But who is she? How is it possible that, even after her death, this woman continues to entangle Jennifer and her family in a bewildering, life-changing web? And how does a forlorn teenage boy's unexpected role further this mystery? While struggling to relocate her mother to senior living in nearby McLean, Virginia, Jennifer must connect these dots and solve a suspicious death the police label "suicide." Can she tackle it all while thwarting a villainous antique dealer intent on destroying her and all she holds dear?
A garage- and estate-sale enthusiast in a diverse, classy community outside Washington, D. C., Suzi Weinert discovered unique merchandise that often revealed unexpected stories. These led to her Garage Sale Mystery Series. Educated and well-traveled, Suzi developed an eye for fi ne things, but years as an Army wife and mother instilled an appetite for bargain-hunting. When living in McLean (near headquarters for the CIA and Homeland Security) she regularly attended sales given by families of politicians, CEOs, diplomats, "spooks" and other influential homeowners in this transient area.
Suzi is the wife of a retired Army general and lives near her five children and their sprawling families in northern Virginia. She's a member of Mystery Writers of America and Sisters in Crime.
Her characters will be familiar to the millions who watched the escapades of Jennifer Shannon and her charismatic family in the 15 two-hour movies aired on Hallmark's Movie & Mysteries channel.
---