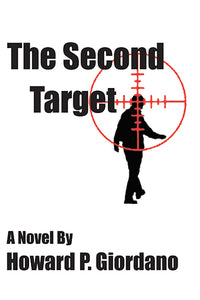 BluewaterPress LLC
The Second Target by Howard Giordano
Regular price
$22.95
$0.00
Unit price
per
Revenge is never pretty but The Second Target shows just how messy it can be. With his usual mastery of suspenseful story-telling, Howard Giordano once again has created an intoxicating page-turner full of deceit, betrayal, greed and retribution. With solid characters that span generations and a gripping plot that zigs when you expect it to zag, this compelling thriller is impossible to put down! --- Patti Brassard Jefferson, Award-winning Author, Illustrator and CEO of P.J. Boox indie bookstore.
"Strong writing. Compelling story. Thrilling suspense. Another winner for Howard Giordano."  --- Suzi Weinert, author Garage Sale Stalker and Garage Sale Diamonds 
The Second Target is a tale of revenge in the flavor of Frederick Forsyth's The Day of the Jackal. In 1942, the FBI captured eight German saboteurs after two of their band ratted out the other six. Those six were executed. The remaining two were imprisoned and after serving their sentence, were released into Witness Protection. This is the inciting incident that draws P.I. Luke Rizzo, an ex-NYPD narc, into the pursuit of a deranged man. The year is 2000. The man is Werner Schmitt, a former East German Stasi agent and the son of one of the executed saboteurs. He is seeking revenge on the two betrayers. He is also after a large cache of money provided by the Nazis to finance the saboteurs' mission fifty-eight years ago but never accounted for. Schmitt's vengeance and greed have lethal consequences, and leave a trail of victims from London, into Pennsylvania and on to New York. Rizzo has to locate the targets before the nut case does. Who will get there first?
--------------------------------------
HOWARD GIORDANO is the author of the award-winning thriller, Tracking Terror. After a career in advertising on Madison Avenue, he joined The New York Racing Association (Aqueduct, Belmont and Saratoga Racetracks) as Executive Director of Marketing and TV. Finally, after serving as President of the New York City Off-Track Betting Corporation, he retired to Florida to devote more time to writing. His is currently writing another thriller involving drug smuggling and human trafficking.
---