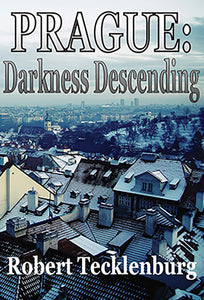 BluewaterPress LLC
Prague: Darkness Descending by Robert Tecklenburg
Regular price
$18.95
$0.00
Unit price
per
Charles Stanek, former OSS agent, must penetrate the Iron Curtain to rescue his former lover and her child from the clutches of Russian State Security (MGB). In deep cover in Australia since 1946, Stanek returns to Central Europe knowing he must confront his old nemesis, General Andre Pavlov, now running the USSR's counterintelligence from Berlin. They have a history from the war, which included Stanek's escape from the General's torturous grasp. General Pavlov knows that Stanek has arrived in Czechoslovakia and is right under his nose. Using Russian agents and Czech police, he launches a countrywide manhunt to capture and bring him to East Germany, deciding to either turn him or kill him.
US intelligence services track Stanek's movements, at the behest of his old boss, General William Donovan. They secretly follow him from the Australian Outback to his arrival in Prague. Stanek eventually learns that they are searching for a Soviet double agent called Attila buried deep in the American intelligence system since the war. The Americans hope Stanek will uncover him, one way or another, and are willing to use Stanek as bait to accomplish it. Attila is equally determined to terminate Stanek to protect his identity.
In Prague, and in the mountains of eastern Czechoslovakia, the Soviets and Stanek play a cat and mouse game. Maria, his former lover, uses her position in the newly installed Czech government to keep the Russians off-balance and help Stanek match wits with the Soviets in a life or death battle.
Author, Robert Tecklenburg, would like readers to gain a greater feel for world history and a sense of how extraordinary events influence the lives of ordinary people. He describes his style as historical fiction-his protagonist, a regular guy forced to confront powerful forces beyond his control. Before finding his true vocation as a writer, Tecklenburg, a former marine, was a PTSD counselor working with combat veterans. Raised on a farm in Iowa, the author has adapted well to the East Coast. He and his wife Rebecca make their home in Northern Virginia.
ISBN: 9781604521528 (Hardcover)
Shipping Weight: 1.4 lbs. (Hardcover)
ISBN: 9781604521535 (Softcover)
Shipping Weight: 1.1 lbs. (Softcover)
---