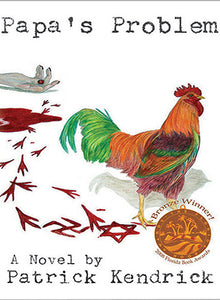 BluewaterPress LLC
Papa's Problem by Patrick Kendrick
Regular price
$12.95
$0.00
Unit price
per
Bronze Winner of the 2008 Florida Book Awards
In depression-era Key West, Ernest "Papa" Hemingway becomes embroiled in a plot that involves illegal gambling and smuggling refugees when he finds himself the suspect in the murder of a Cuban prostitute.  Working with the mysterious former Scotland Yard inspector, Emmet MacWain, they must delve into the dark side of this sunny paradise and find the answers that may help save hundreds of innocent lives as well as their own.
"Rarely have I been so riveted as I have been with Patrick Kendrick's story of Key West, Ernest Hemingway, Cuba, murder, and the plight of the Eastern European Jews who sought refuge in Cuba.
. . . Kendrick writes like the love child of Elmore Leonard and Barbara Taylor Bradford."
. . . . . . - Parker Ladd-former host of A & E's Open Book Series and current host of The Palm Beach Author Series.
Pat Kendrick has masterfully blended a tale of historical fiction, intrigue, and love surrounding a murder mystery and has skillfully weaved it all into a twisting and turning, roller-coaster ride of a plot. He brings old Key West and Papa Hemmingway to life along with his own colorful and likable detective, Emmet MacWain. The first chapter grabs you and won't let go as you eagerly turn each page to get more. Through his complete description, you can taste the fish on the grill and smell the blood dripping on the hardwood floor. To me, it's reminiscent of an author named MacDonald and a character called Mcgee.
. . . . . . - Brent Braunworth, author of Blood, Guts and Tears and Street Scenarios for the EMT and Paramedic 
ISBN: 9781604520187
Shipping Weight: 1.2 lbs.
---