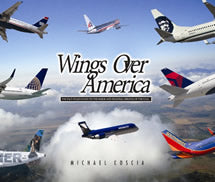 BluewaterPress LLC
Wings Over America: The Fact-Filled Guide to The Major and Regional Airlines of the U.S.A.
Regular price
$17.95
$0.00
Unit price
per
Wings Over America: The Fact-Filled Guide to The Major and Regional Airlines of the U.S.A. is a historical, factual, and illustrated overview of the airlines that serve our nation. There are a total of 59 airlines and brand names, all of which has to be approved by the airlines themselves in advance in order to use their logos and most up-to-date information and statistical data. This book is primarily targeted towards airline enthusiasts, filling a void since the last time a book of this kind had been published nearly two decades ago. The author's passion for aviation and the airline industry has truly been captured in this one-of-a-kind publication. The first official book signing will be held at the Museum of Flight in Seattle, Washington in October, 2009. This book features several airline companies that have never been featured before in a publication of this type. The author has high hopes that not only this book will serve its purpose, but sell many copies to people of interest and airline related environments across the country. He has done a great deal of advertising for the publication, and many have already taken interest as far as placing orders in advance. Wings Over America is a true symbol of the most powerful dynamic industry in today's world of air transportation, and hopes to keep America forever flying.
Author's Bio:
Currently a student from Medford, Massachusetts, Michael Coscia is a graduating senior at Embry-Riddle Aeronautical University in Daytona Beach, Florida. As a lifelong airline and aviation enthusiast, his future goal is to pursue a career as a commercial airline pilot and reside in the Pacific Northwest. In his spare time, he enjoys graphic design, primarily creating logos and advertisements, traveling, and collecting airline memorabilia. He takes active participation in his school as a member of the Student Government Association's Progress Committee in which he works together as a team to better campus-related projects and enhance student life overall; introducing several successful concepts and innovative ideas including the launch of "Midnight Café", ERAU's first late-night dining venue alternative. As a former employee for British Airways at Boston Logan International Airport, Michael was the proud recipient of the 2005 Award for Excellence, which is issued to one key team member per year, identifying and acknowledging efforts that surpass typical expectations of the Company, which was awarded in August of that year at the global airline's World Headquarters—"Waterside"— adjacent to London's Heathrow International Airport and presented by former CEO, Mike Street. Michael was with the Company for a total of two and a half years before he resigned to attend school at Embry-Riddle that same month in January, 2006. He will graduate in the spring of 2010 with a Bachelor's Degree in Aeronautical Science.
---