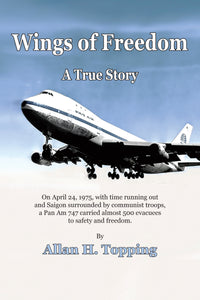 BluewaterPress.com
Wings of Freedom by Allan H. Topping
Regular price
$18.95
$0.00
Unit price
per
At the end of the Vietnam War, Pan Am successfully evacuated 463 American and Vietnamese civilians on April 24, 1975, aboard a Boeing 747. At the time, Allan Topping was instrumental in the success of Pan Am's final departure from Saigon on April 24, 1975.

Topping lived and worked in South Vietnam for two and a half years. In addition to its global network of scheduled services, Pan Am was also involved in many other rescue and humanitarian operations throughout the world. These operations and missions included the Berlin Airlift, rescue operations from Tehran, operational support for US forces in WW II, the Korean War, the Vietnam War and, most recently, the Gulf War.

Prior to joining Pan Am Allan Topping worked for the Institute of International Education and United Airlines in New York City. He joined Pan Am on June 2, 1969 as a sales representative, assigned to the San Francisco sales office. In November of 1972, Al became the Director of Vietnam and Cambodia, based in Saigon, South Vietnam.

After managing operations at various stations overseas for almost eight years, he returned to the U.S. in 1982, Pan Am appointted him as Assistant to The Chairman Consumer Affairs. Topping continued to hold other management positions until the company ceased operations on December 4, 1991.

For the next 23 years he worked for The Miami-Dade School Board Administration, The Miami Herald and the Miccosukee Golf & Country Club in Miami, Florida.
Now fully retired Topping is playing lots of golf in Ocala, Florida.

---