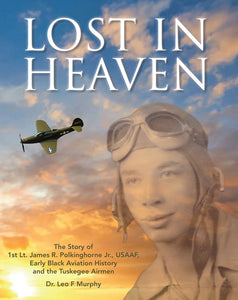 BluewaterPress LLC
Lost in Heaven: The Story of 1st Lt. James R. Polkinghorne Jr., Usaaf, Early Black Aviation History and the Tuskegee Airmen by Leo Murphy
Regular price
$19.95
$0.00
Unit price
per
These are the stories of the famed Tuskegee Airmen and 1st Lieutenant James R. Polkinghorne Jr., one of their own who did not come home. It is a well-documented account with many illustrations of the time.
1st Lieutenant James R. Polkinghorne Jr., USAAF, was born in Pensacola, Florida in June 1921 and earned his U.S. Army Air Forces pilot wings as part of the famed Tuskegee Airmen in February 1943. Assigned to the 301st Fighter Squadron, he disappeared in May 1944 while flying a combat mission in a P-39 Airacobra over Italy.
Packed with illustrations, Lost in Heaven also chronicles the achievements of early black aviation pioneers who refused to be denied the opportunity to enjoy the splendors of flight. The history of the Tuskegee airmen is also traced, documenting the Herculean effort required by the Tuskegee Institute to establish an aeronautical program and the subsequent successes of the first black fighter pilots in the history of the U.S. armed forces who served their country with honor and bravery in combat over the skies of Europe.
ISBN: 9780974348728
Shipping Weight: 1.0 lbs.
---