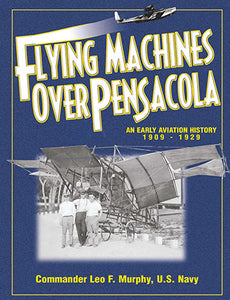 BluewaterPress LLC
Flying Machines Over Pensacola by CDR Leo Murphy (USN ret.)
Regular price
$19.95
$0.00
Unit price
per
Celebrate the Centennial of powered flight with the achievements of Pensacola's own early aviators!
On December 17, 1903 Orville and Wilbur Wright launched into history with the first powered, controlled and sustained flight of an aeroplane. On November 30, 1911 Pensacola witnessed her own first successful aeroplane flight, beginning with over 90 years of near-continuous aviation achievements and adventures over the Gulf Coast that continues to this day.

Learn about:
The 1909 "Rhodes Aeroplane: flight attempt from Fort Barrancas
The 1911 "Nassr Aeroplane" flight attempt from Kupfrian's Park
The 1911 "Curtiss-Mills Pusher" flight from Palmetto Beach
Pensacola's first civilian airfield
The birth of the "Cradle of Naval Aviation" and "Annapolis of the Air"
Pensacola's – and Florida's – first aviation-related death
Early aviation records set in Pensacola
Medal of Honor awarded for aviation action in Pensacola
Pensacola's lighter-than-air achievements
Visiting barnstormers, flying circuses and airtours
Pensacola's aviation mysteries, tragedies, and oddities
-----------------------
We are pleased to announce that Pensacola Bay Flying Machines Ltd. Co., the original publisher of Flying Machines Over Pensacola, has joined BluewaterPress LLC as a new imprint.
Leo R. Murphy now resides in Daytona Beach, FL and uses his aviation expertise from his naval aviation career in teaching aspiring new pilots at Embry-Riddle Aeronautical University.
ISBN: 9780974348704
Shipping Weight: 0.9 lbs.
---