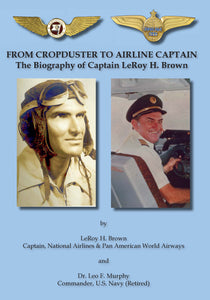 BluewaterPress LLC
From Cropduster to Airline Captain by LeRoy H. Brown
Regular price
$19.95
$0.00
Unit price
per
The Biography of Captain LeRoy H. Brown
By LeRoy H. Brown and Dr. Leo F. Murphy
In 1936 a wide-eyed boy by the name of LeRoy Brown clambered aboard a 1929 Waco 10 converted to crop dusting duty, sat down in the grimy hopper, and then launched into a clear-blue Florida sky on a wondrous flight that ignited a life-long passion with flying and airplanes.  More than 35,000 flight hours later, Captain LeRoy Brown stepped out of the cockpit of a Pan American World Airways DC-10 to end a commercial aviation career that spanned nearly five decades.  In between he filled dozens of logbooks, with exciting tales of flying biplane crop dusters, B-17 freight haulers, old airliners, surplus military trainers, state-of-the-art propeller and jet airliners, and more than 150 personally owned airplanes.
Packed with photographs and generous sidebars of supplemental information, From Crop Duster to Airline Captain chronicles the life and flying stories of Captain LeRoy Brown, 2009 inductee into the Florida Aviation Historical Association Hall of Fame and 2012 recipient of the Federal Aviation Administration's Wright Brothers Master Pilot Award.
Captain Brown truly has lived the "perfect aviation life." He started watching classic biplanes dust fields in southern Florida and worked his way into the good graces of many duster pilots along the way. In perfecting his friendship with many of the early agpilots, he soon found himself helping them take care of the airplanes, later riding along and operating the hopper, and finally, becoming a duster pilot himself.
Somewhere along the way, he "accidently" became an airline pilot working for National Airlines. He flew many of the airliners in the National stable, from "a tail-dragging, piston-powered, propeller-driven 14-passenger Lockheed Lodestar," as his co-author writes. He would later finish his career with Pan American World Airways after the two airlines merged. The last company plane he flew was the DC-10 Clippers at the time of his retirement in 1981.
This book is a very important book, not just for Captain Brown's story; it also captures the essence of aviation history throughout the beginnings of the industry.
ISBN: 9781604520767 (Hardcover)
Shipping Weight: 1.5 lbs. (Hardcover)
ISBN: 9781604521078 (Softcover)
Shipping Weight: 1.0 lbs. (Softcover)
---