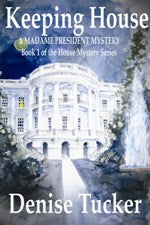 BluewaterPress LLC
Keeping House by Denise Tucker
Regular price
$19.95
$0.00
Unit price
per
A MADAME PRESIDENT MYSTERY
Book 1 of the House Mystery Series
by Denise Tucker
After surviving a stinging divorce, Gary Craig moves to Washington to work for the newly elected president Stan Taylor. Soon after Gary's arrival, Taylor dies and vice president Martha Johnson assumes office as America's first female president.

In a surprise move, President Johnson appoints Gary as her social secretary, and Gary becomes responsible for running the East Wing and the day-to-day operations of the White House. In his new position, Gary draws close to Madame President and her three children, which fills the aching void in his heart for love and a family of his own.
Gary and Madame President then discover that President Taylor was actually poisoned by a secret international terrorist group wanting control of the White House. Gary also learns that President Taylor's murderer is a mole working inside the Oval Office.
Now Gary, with the aid of a few loyalists, races against the clock to protect the woman he loves and to capture the West Wing murderer before he can strike again.
---------
"Set in four cities, this mystery will start you off and keep you running from the git go.  Descriptions and details show Tucker's intimate knowledge of each of the locations and history down to china patterns, rooms of the White House, flora, and fauna.  Her characters are brilliant, quirky and loveable, be they human or feline, old or young. Problems begin immediately on the campaign trail, but more obstacles and even death gets in the way of the election. Our unexpected survivor is Madame President, a law school Dean. The widowed Martha is intelligent and able to respond effectively to savvy politicians, cabinet members, historical society upper crust, the secret service, and White House staff. She is a free thinker and acts decisively. Her children and Aunt Sophie "the First Lady" are spunky, natural and good natured. You will both snort with laughter and be worried with suspense as Gary, her social secretary tries to hone in on the real villain in the inner circle.  The youngest character is five year old Abigail with her cat Sheba.  As the book ends we read "I mean really, I ask you, how much trouble can one little girl be?"  Madame President has numerous secret weapons at her disposal; the discovery of these will thrill and satisfy the true mystery lover."

--Jill L. Locke, PhD.  Children's specialist and Children's book reviewer for Kirkus, whose adult favorite reads are mysteries.
To continue reading about Madame President's future exploits, follow the story in Book 2 of the House Mystery Series. 
---------
Author's Bio:
About the author: Denise Tucker is a college professor at the University of North Carolina at Greensboro by day and is a mystery writer and jewelry artist at night. She was born in Lynchburg, Virginia and was raised on reading mysteries, a favorite pastime of her mother and maternal grandmother.  She enjoys growing roses, singing in her church choir, listening to Celtic music, and spoiling her two cats.
ISBN: 9781604520255
Shipping Weight: 1.2 lbs.
---